Are you passionate about an issue somewhere in the world where you want to make a difference, but you don't have the money to make it happen?
2019 Awards List
Below is the list of GoMakeADifference's 2019 winners
Once again UWC students have impressed us and the quality of 2019 projects is fantastically high. GoMakeADifference is delighted to announce it will be supporting 31 projects run by UWC students living the UWC mission after they graduate this summer. UWC students will be making a difference in Africa, Asia, Americas, Middle East and Europe throughout 2019. The total value of grants awarded for 2019 is $31,000.
Each of the 17 UWC schools and colleges is represented across the 31 projects.
Below are students from Waterford Kamhlaba UWC and UWC Red Cross Nordic receiving their certificates in recognition of their successful project awards.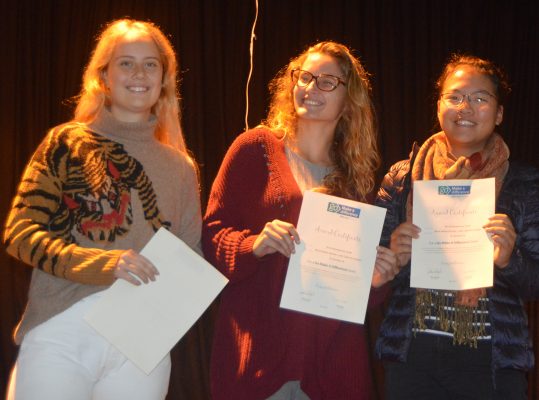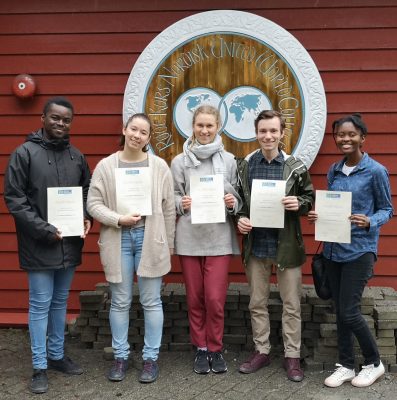 Here at GoMakeADifference we can't wait to see the end of project reports from UWC projects leaders on how their projects were delivered.  It is great to hear from the students, what worked, what was a success, what they learned and what they would have done differently if they had their time again. The reports provide motivation to future students thinking of applying to make a difference. We wish you well!
As always we would like to thank the local UWC school/college coordinators for everything they do in promoting the award scheme and for everyone applying.
Hopefully 2020 UWC graduating students will be inspired by these initiatives and will start to think about how they can make a difference in the near future and as Jill says "live the UWC mission!"
— 2019 Awards (last updated: 26 August 2020, 3:23 pm)
Project Title
Project Leader(s)
College(s)
Project Location

Project Title:

Helping blocked migrants in Spain

Project Leader(s):

Pablo Chabalier

College:

UWC Mostar

Project Location:

Bilbao or Madrid, Spain

Project Title:

Life After Ebola (LAE)

Project Leader(s):

Martha Tondoneh & Victoria Martha Thorpe

College:

UWC Changshu China & UWC Maastricht

Project Location:

Kono and Kenema, Sierra Leone

Project Title:

Dosage of Hope

Project Leader(s):

Seraj & Yunlan Li

College:

UWC Atlantic College

Project Location:

Baalbeck, Lebanon

Project Title:

Decolonizing Education System in YDC in Lithuania

Project Leader(s):

Ieva Mackute

College:

UWC USA

Project Location:

Kaunas, Lithuania

Project Title:

Sakha Live: Keeping Them In School

Project Leader(s):

Thandolwethu

College:

UWC Red Cross Nordic

Project Location:

Manzini, Eswatini

Project Title:

Umliba-The Future of Eswatini's youth

Project Leader(s):

Temazulu Zulu & Bongiswa Dlamini

College:

UWC USA & UWC Dilijan

Project Location:

Hhohho, Eswatini

Project Title:

Greenlijan

Project Leader(s):

Mikayel Kamendatyan & Albert Ananyan

College:

UWC Dilijan

Project Location:

Dilijan, Tavush Region, Armenia

Project Title:

Rujište Afforestation

Project Leader(s):

Katinka Rokkjær Ødegaard & Hannah Grace Klemmensen

College:

UWC Mostar

Project Location:

Rujište & Mostar, Bosnia and Herzegovina

Project Title:

69 países

Project Leader(s):

Angel Benjamín Pérez Camargo

College:

UWC Thailand

Project Location:

Mexico City, Mexico

Project Title:

Vahombey Project - Giving the 'world' to Bekitro

Project Leader(s):

Jullian Karel Androkae

College:

UWC Changshu China

Project Location:

Bekitro, Androy, Madagascar

Project Title:

Child Marriage and HIV/AIDS awareness

Project Leader(s):

Geraldo António Sibinde

College:

UWC Costa Rica

Project Location:

Mogovolas and Mecuburi, Mozambique

Project Title:

Bloom Classroom

Project Leader(s):

Ulele Noella Kachilele

College:

Li Po Chun UWC

Project Location:

Mitundu, Malawi

Project Title:

In a Pickle Situation

Project Leader(s):

Khushi Mehta & Akshita Jaswal

College:

UWC Mahindra College

Project Location:

Pune, Maharashtra, India

Project Title:

"Na Amish Le Mederesha", "Let us go to school"

Project Leader(s):

Peter Micah & Boboya Emmanuel

College:

UWC Adriatic

Project Location:

Juba, South Sudan

Project Title:

IFP Russia

Project Leader(s):

Anna Donova

College:

UWC South East Asia

Project Location:

Rostov on Don, Russia

Project Title:

Lift for Life

Project Leader(s):

Esther-Gail Fraser

College:

Li Po Chun UWC

Project Location:

Kingston, Jamaica

Project Title:

Adriatic Cup

Project Leader(s):

Julie Tilling Niemann & Etumu Mavie Schoster

College:

UWC Adriatic

Project Location:

Limpopo province, South Africa

Project Title:

Goggles for Muggles

Project Leader(s):

Grace Niu & Mint Kewalin

College:

Li Po Chun UWC

Project Location:

Bangkok, Thailand

Project Title:

Initiative for Peace - Denmark

Project Leader(s):

Casper Øhlers & Anna Donova

College:

UWC South East Asia

Project Location:

Roskilde, Denmark

Project Title:

Go with the flow, Period

Project Leader(s):

Elizabeth Kako Gimba

College:

UWC Robert Bosch College

Project Location:

Nairobi, Kenya

Project Title:

The Innovation Center

Project Leader(s):

Sara Wagner & Liva Araka

College:

UWC Red Cross Nordic

Project Location:

Sakyikrom, Ghana

Project Title:

A better Kadongo

Project Leader(s):

Ndagire Mercy Ritrisha Morella

College:

UWC Adriatic

Project Location:

Wakiso District, Uganda

Project Title:

The Female Humans of War

Project Leader(s):

Hala Murad

College:

UWC Adriatic

Project Location:

Ensdorf, Germany

Project Title:

Sanitation for Education

Project Leader(s):

Nicolas Barboza & Aristide Sekarambi

College:

UWC Red Cross Nordic

Project Location:

Nsawam-Adoagyiri District, Eastern Region, Ghana

Project Title:

Favouring the integration of drug addcted orphans in Morocco

Project Leader(s):

Fatima Zahra El Maliani & Wiktoria Grzech

College:

UWC Adriatic

Project Location:

Casablanca, Morocco

Project Title:

A Space Devoted to Diversity

Project Leader(s):

Viktoria Jorde Hellebø & Vilmine Marie Wilberg

College:

UWC Mahindra College & UWC Adriatic

Project Location:

Follo, Norway

Project Title:

Project Jipende (Project Self-love)

Project Leader(s):

Kamene Mang'oka & Aisha Yusuf

College:

Pearson College UWC

Project Location:

Nairobi, Kenya

Project Title:

Activity Friend

Project Leader(s):

Sindre Iversen Carlsen & Siena James

College:

UWC Atlantic College

Project Location:

Cardiff, Wales

Project Title:

Youthganda

Project Leader(s):

Patrick Wilson Oketcho & Jo Saito

College:

UWC Atlantic College

Project Location:

Tororo, Uganda

Project Title:

Phones4Refugees

Project Leader(s):

Tom Pugh

College:

UWC Atlantic College

Project Location:

England, UK

Project Title:

Rise empowering youth

Project Leader(s):

Alicia Barker-Åström &Leah Caterina Gaspari

College:

Waterford Kamhlaba UWC

Project Location:

Mbabane,Eswatini
Testimonials
I received a GoMAD grant for a HIV Youth Awareness Campaign in Nairobi back in 2002. Here I am now, founder of an organization that is riding on the same philosophy. I am so excited to honor Jill and Colin on the impact that they had in what I do now.

— Umra Omar (Founder/Director of Safari Doctors)