Do you want to live the UWC ideal after you graduate, but don't have the money to do it?
Commonly-asked questions
"A student already has her team and are involved in social entrepreneurship trainings for children in Morocco. She is the only UWC student in the group and they have already started the project, the GoMakeADifference funding would help them to expand their project. Can she still apply and get the funding for her partially non-UWC group?"
On the margin this is OK. We would prefer a higher % of UWC students, and we would prefer them to be starting a new initiative. But we are happy to consider the proposal.
"How competitive is GoMakeADifference? How many applications do you receive and how many projects do you select?"
We received over 50 applications in 2017. We have said we will give up to a maximum of 30 grants. We will judge how many we give based on the quality of the application and not the quantity.
"Does the entire group have to go to the actual project location? Or can let's say a group of 10 prepare the project and then 5 go and actually do it?"
This is fine if not slightly unusual. Generally our experience has been a fewer number of people doing the preparation and a higher number going and actually do it. But if they have a good reason for it to be this way around, then it's fine.
"Can DP1 students apply and if they get selected can they choose to proceed with the project in the summer following graduation? (We have a shorter summer than most UWCs as we are at school all the way until the end of June)"
Historically, projects had to be delivered by leaders who were DP2 students. However, in 2022, we confirmed that projects could be delivered by any 1st or 2nd years students studying for their IBDP at any UWC school or college. UWC students of any age can support on projects.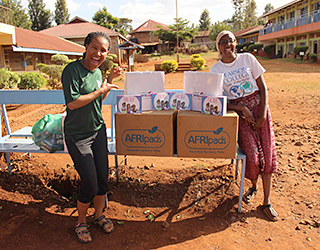 "Do you expect the students to apply to you directly? In this case, I understand, you or Colin would notify us with the names of the selected students."
There is a box/field on the application form that must be signed by a member of staff before it is emailed to us. We would suggest this should be yourselves so you know who has applied and you can help them prepare for their interview.
"Do the students apply through the CAS coordinator, and the CAS coordinator screens the applications through some prescribed norms and then forwards the applications to you?"
We recommend you read through the applications and feedback to the student leader if you feel there are any areas that could be improved so they have a chance to strengthen their application. Then sign it off. These are student led initiatives, and that is important, but do please give guidance when you think it's needed to better the project.
"I understand the grants are for final year students only; can we also announce the GoMakeADifference programme to the first year students to get them thinking? Are the first year students encouraged to apply, with a prescription that even if their programme gets selected they will get the grant only when they are in their final year?"
Please do encourage DP1 years to start thinking about it now. The more time they have to consider projects the more successful they generally are. Particularly if the leader is doing it in his/her home country they have time then in their first summer break and follow up in the winter break to arrange meetings with potential collaborators, organise accommodation, think about challenges etc. As in Q4 we would encourage students to wait till DP2 to apply for the reasons given above.
"I am planning on submitting a proposal for a grant along with my fellow-UWC friend, however we are unable to decide which project to propose to you. Is a team (my friend and I) able to submit more than one proposal if the ideas are different but still equally competitive?"
Absolutely - sometimes, we feel passionate about more than one cause. So, if you have two projects that you feel you could equally make a difference then submit both applications and they will both be considered on their merits. Good luck!
Testimonials
The people who succeed in these hard times are those who are not afraid to fail. Go MAD made us realize our potential.

— Plant a Tree, Nepal, 2011