Grants will be given to projects that demonstrate that they can make a difference.
United World Colleges
GoMakeADifference is pleased to be associated with UWC (formerly United World Colleges).
UWC has schools and colleges around the world and offers a growing portfolio of short programmes. UWC delivers a challenging and transformative educational experience to a diverse cross section of students, inspiring them to create a more peaceful and sustainable future.
Founded in 1962, the education at UWC is underpinned by shared guiding principles. Students from between ages 2 to 19 years old have the opportunity to benefit from UWC, with the specialist two-year pre-university colleges teaching the International Baccalaureate Diploma.
UWC provides the opportunity to put academic achievements into perspective with students being encouraged to participate in a mix of community engagement, international affairs, physical activities, service commitments and creative pursuits.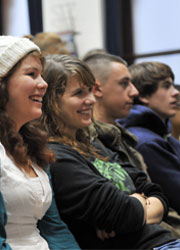 An example of some of the fantastic activities from UWC students was highlighted in an article from the UK's leading journal Independent Education Today. This article focuses on a GoMakeADifference sponsored project by students from UWC Atlantic College in Wales, to 'Paint the World' - a project to foster unity among multi-racial societies by bringing young people together towards positive causes - regardless of their ethnicity, race, religion or socio-economic standing.
GoMakeADifference projects are very much aligned to the ethos of UWC. The GoMakeADifference Grant can provide the catalyst to help students to live the UWC ethos and guiding principles.
For more information about more about UWC visit the official UWC website.
Testimonials
GoMakeADifference Initiative really allowed me to make a difference somewhere as well as allow me to understand how collaborative work and social engagement can be used to make a positive difference in the world. GoMakeADifference fosters that creativity that you've gained from Atlantic College and makes you understand that you can make a difference and an impact if you put your mind to it.

— Scott Dwyer (AC12), Clara Gurreso (AC12), Siobhan Weber (AC13), Zoological Enrichment of Animals with Nanjing Zoo