Li Po Chun College Award Presentation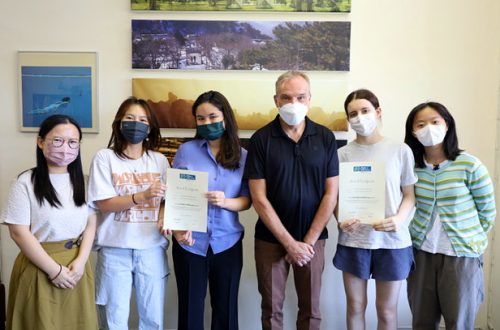 It is lovely to see how much students appreciate gaining a GoMakeADifference award. Every year we never fail to be impressed with the quality and diversity of the project ideas students propose to help make a difference.
Here are the students from UWC Li Po Chun College in Hong Kong being presented with their certificates for their 2022 awards for two very different projects. Ivy Shi and Hannah Bailey Cheery aim to develop a Mobile Library to bring books to underprivileged communities. Cecily Houghton and Joey Wat who aim to bridge the technology divide, by providing technology to support refugee students including computers, internet access and mentorship.
Also in the photo are Arnett Edwards, Head of UWC LPC and Fiona Ng, Teacher of Mathematics and the LPC GoMake a Difference UWC co-ordinator.
We wish all successful UWC students well with their project delivery this year and look forward to hearing how their projects really made a difference.
Good luck, guys.
Best wishes from the GoMakeADifference team.