GoMakeADifference Announces 2022 Awards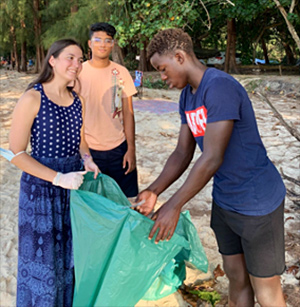 23 GoMakeADifference project applications have received grants, in this our 21st year. A total of $23,000 will go to support UWC students, in living the UWC mission.
The GoMakeADifference team were delighted to receive a total of fifty project applications from nearly all UWC Schools and Colleges, for students to deliver community projects around the world in 2022. This was despite the obvious challenges and restrictions that COVID inevitably brings.
As co-founder, Jill Longson (AC'81) commented, "We were thrilled with the response we had. We know how difficult it has been for students over the last two years, but they have shown great creativity and passion in their project proposals. The increase in climate and sustainability related projects was particularly evident this year, as was the number of projects supporting refugees".
Students from 12 Schools/Colleges are receiving grants. Some projects have students working together from different UWC's, which will no doubt be a particularly special experience. Particular congratulations this year go to UWC Waterford Kamhlaba and UWC Atlantic, with 5 successful awards each.
Helping students make a difference The GoMakeADifference team, would like to thank and acknowledge the help we receive from the UWC Schools and Colleges in helping us to promote the awards, motivate and guide students into submitting their project plans.
Projects were successful where students submitted innovative, well-thought through project proposals that meet a real need; with comprehensive timelines, budgets and operational plans; that provided a level of personal challenge and commitment; and with a strong likelihood to succeed. Many applications had accompanying videos where it was evident to see the enthusiasm students had for their projects.
There were seven successful projects around climate issues covering sustainable agriculture, waste and water. Other projects focused on youth rights and leadership, education and women's rights. Refugee projects were aimed either at offering support in camps, or in local communities - with one designing and building a multiple local language translation App.
Providing language education tailored for refugees and asylum seekers.
Providing a marketing resource to promote rurally-produced indigenous products in the toiletries market in India.
Creating a core group of young change makers, working for human rights, respect and peace in Haiti.
Starting a library and motivating children to return to school after a 2 year lockdown in Uganda.
Igniting an innovative spirit to young Tanzanians through information technology education.
Constructing wetlands for the reuse of water resources using grey water in Argentina.
Raising awareness about the severity of gender violence in Mexico.
Planting seeds of education in impoverished and Roma communities through children's summer camps across Romania.
Reducing plastic waste in a community in Zimbabwe.
Bringing books to underprivileged communities through mobile libraries in the Philippines.
Creating a technology drive to support refugee students including computers, internet access and mentorship in Hong Kong.
Reforesting and teaching environmental sustainability in Portugal.
Promoting and facilitating sustainable practices in Phuket to reduce the impact of plastic.
On assessing the GoMakeADifference 2022 project applications, Colin Habgood (co-founder), commented, "We review every application carefully and consider each project against our criteria around personal development, project sustainability and success. It is a long but rewarding task, especially with so many and such diverse projects".
Colin went on: "We all enjoy reading the applications and were inspired by the innovative ideas UWC students have in making a difference. It is a shame that not every project can be successful in receiving a grant from us. But we hope that by developing a project plan, every student can use this experience as a catalyst, to allow them to somehow still deliver their plan".
Take a look
You can view full details about the projects awarded this year, or take a look at those which have been delivered in previous years.
Colin Habgood, Jill Longson and Ann Goodwin.