2016 Highlights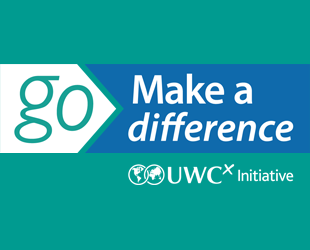 In 2016, GoMakeADifference funded 20 grants that enabled UWC graduates from around the world deliver projects that serve the community and change lives for the better. Hundreds of people have benefited from programs funded by GoMakeADifference, and these are just a few of the wonderful projects that have been completed this year:
In collaboration the Women's Forum for Human Rights and Democracy, GoMakeADifference volunteers distributed learning materials to Ebola Virus Disease orphans in Sierra Leone's Municipality of Makeni. They not only helped reunite children with their extended families but also helped them take steps against being stigmatized among their peers.
Oliva Tienin helped 70 mothers across Ouagadougou, Burkina Faso secure access to free healthcare to help keep their families safe and healthy. She also helped to secure regular at-home monitoring to ensure that any health issues can be detected quickly and treated in a timely manner.
Noor Bib, Mehrun Nisa and Anila Bano established the Local Issues Forum (LIS), allowing young people in District Ghizer (Gilgit– Baltistan Pakistan) to voice their opinions on topics that are important to them – providing a healthy discussion forum in an area where young people need it the most.
Kirsty Hawk and Sofia Corti delivered a program to educate students and teachers Lusaka, Zambia about sustainability. Using fun activities, they were able to help young people learn more about how they can do their part to benefit the environment.
Bassie Bondeva Turay, Haja Isatu Bah, Modupe Taylor Pearce and Maria Teresa Julianell worked together to refurbish the borehole at Freetown Cheshire Home. The project ensured that the children at the home would be able to have proper access to water facilities.
Blessing Chirimbani worked to refurbish the St Joseph's Home for Boys in Zimbabwe, improving the kitchen facilities and fixing a leak in the roof to help improve the quality of life for the boys at the home.
Do you have an idea for a project that will make a difference in the world? We can help provide funding to get your on your way. Our applications for 2017 are open, and you can apply right here.