Project Imagine: A Quest For Happiness
Connecting with youth individuals to educate, take part in book reading groups, and learn about personal health.
Background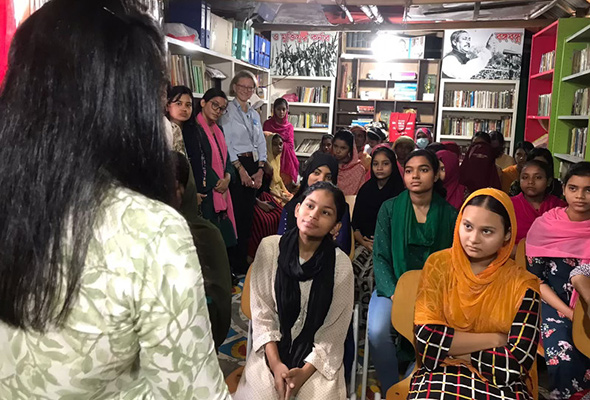 "Firstly, the changes we had to make were determined by the issues of COVID and long distance travel in Bangladesh, which had forced us to relocate our project to the Karail Slum in Dhaka. Here, we have connected with a group of youth individuals who have been attending a makeshift library to educate themselves and take part in book reading groups.
"In order to pursue our project, we started with an introductory session, where we discussed our overall plan, which greatly incorporates educational and awareness sessions and how we were going to financially support them (which I will detail later in the email), followed by some musical performances from me. After that, there was a large gap in the team members attending, due to Zayyan and I being in Atlantic College right now, however, we continued the project remotely with the help of a family friend's support."
How They Made A Difference
"So far we have covered their annual venue cost and helped them to set up a computer to access the internet (worth 66000BDT), and have supported them to be able to afford their SSC exams with the condition that they have to do well. These exams are crucial in Bangladesh to pave a path for higher education for these youth individuals.
"A few days back, Aisha joined for our second in person session, and gave a talk about Menstrual Health for the group. They were very keen to learn and have incorporated the practices into their daily lives and have also fought against male stigmas with the males in the group being very understanding while learning about such a taboo topic. Furthermore, we have used our project funding in addition to external support from Dhaka's Rotary Club, to install a Sanitary Napkin Vending Machine for the menstruators in the group."
How The Project Made A Difference for the Volunteers
"Overall, it has been an absolute treat to see these individuals grow and us too and we could never be happier for you supporting us with the funds we needed to help these individuals pursue a happier and better future."