GoMakeADifference 2024 awards – now $2,000 per grant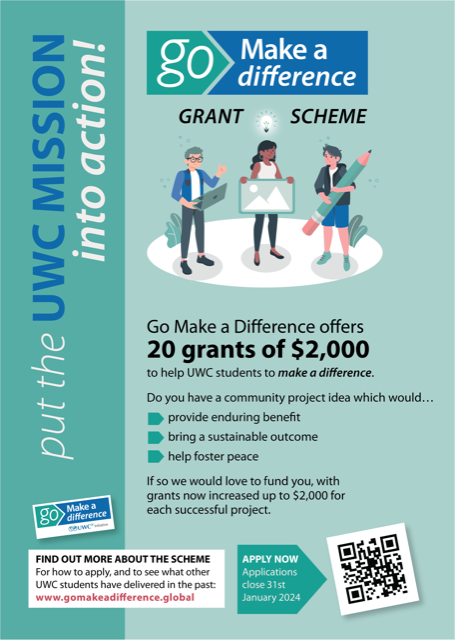 2024 grants increased from $1,000 to $2,000 per award
We are delighted to announce that for 2024, GoMakeADifference grants will increase from $1,000 to $2,000 per grant. And our overall commitment will increase from $30,000 per year to $40,000 with 20 grants being awarded.
We hope that by increasing the value per grant, it will enable and encourage UWC students to submit even more exciting and innovative plans as to how they can make a difference.
The GoMakeADifference award programme, which is a UWCx initiative, was founded in 2001 by UWC alumna Jill Longson and her husband Colin Habgood, to help students live the UWC mission,.
We are proud that over 200 projects have now been delivered over the last 22 years, by approximately 900 students who have made a difference to thousands of people.
The awards are open to any student studying at any UWC school or college, however the projects must be led by either a UWC 1st or 2nd year student studying for their IBDP.
In keeping with the UWC mission applications from students with projects delivering sustainability, social justice and peace are more likely to gain success. I am hoping as in previous years, you can promote the award program to your students and make them aware that the application date closes on 31st January 2024. For students from Waterford, we have extended the deadline to 11th February 2024.
Be inspired, see what UWC students have delivered in the past, as they have made a difference - https://www.gomakeadifference.global/projects-awarded/videos/
Applications for 2024 awards are now open - https://www.gomakeadifference.global/apply/
It is important that students do submit a budget and timelines with their plan. Occasionally we get applications without any detail as to how and when students propose spending the money and it is important that they consider this as part of their project application.